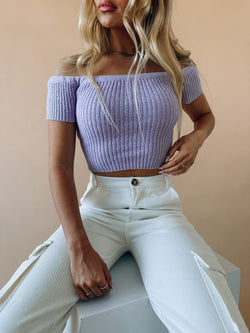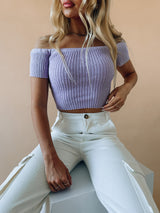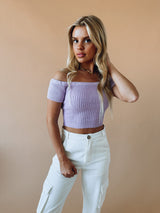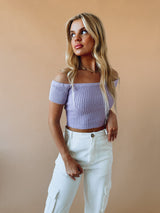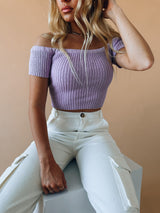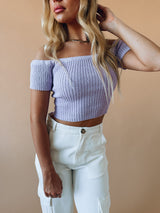 DETAILS:  
Our Penelope Knit OTS Top is a lavender off the shoulder knit top. This lightweight knit top features a stretchy off the shoulder neckline, cropped fit, and ribbing throughout. This top is true to size and has stretch throughout. 
 CONTENT & CARE: 
 SELF: 55% polyester, 45% Acrylic 
 SIZE & FIT:
Model is 5'6" 
The model is wearing a size Small . 
Fits true to size
The Fabric has stretch
HOLIDAY SHIPPING & RETURN UPDATE 
Due to increased volume and extended shipping times, please allow for a minimum of 5-7 business days to receive your order.
During the holiday season our return policy will be extended. Our customers will be allowed to return or exchange items purchased after Dec. 1st 2022 until Jan.15th 2023. 
ANY RETURNED ITEMS MUST BE POSTMARKED WITHIN 14 DAYS FROM THE DATE YOUR ORDER WAS RECEIVED. NO EXCEPTIONS. IN ADDITION, ANY ITEMS BOUGHT IN STORE MUST ALSO BE RETURNED WITHIN 14 DAYS OF PURCHASE. 
WE ONLY OFFER STORE CREDIT FOR ELIGIBLE RETURNED ITEMS.
We would love to answer any questions regarding sizing or styling so that you absolutely love your item when you receive it! Store credit never expires. We get tons of new styles in weekly, and can help you find something new if your purchase doesn't work out!
HOW DO I INITIATE A RETURN or EXCHANGE?
 Original shipping is non-refundable, and we are not responsible and do not fund return shipping or exchange shipping. Exchanges will be granted based on inventory available as soon as we receive your returned item. We cannot hold items for exchange.
HOW WILL I RECEIVE MY STORE CREDIT?
As soon as we receive your return, we will email your store credit code to you. Please allow 5-10 business days for return processing.  
WHERE DO I SEND MY RETURN AND WHAT DO I INCLUDE?
All returns can be sent to 1411 North 203rd Street, Elkhorn, NE 68022. Please include the packing slip that came with your order and the items you are returning. Please ensure all items that will be returned, follow our eligible guidelines, listed below.
WHAT IS THE TURNAROUND TIME FOR ORDERS TO BE SHIPPED?
We do not ship orders on weekends. Additionally, orders placed after 5:00pm CST on Thursdays are not always guaranteed to be shipped until Monday. We will do our very best to get the order out Friday, but we cannot guarantee it. Please email us by if you absolutely need the order out by Friday. 
DO I HAVE TO PAY FOR SHIPPING?
We offer FREE shipping when you spend $50 or more! Orders under $50 will pay a flat fee of $4.95. You can also pick up your order in store for free! 
WHAT DO I DO IF MY ORDER IS LOST OR DAMAGED?|
Madida is not responsible for lost or stolen packages. If your package arrives damaged, you must let us know within 24 hours of receiving the item. Please confirm your address before submitting your order. If your order is lost in transit, we suggest contacting your local USPS to help locate your package.
WHAT ABOUT RETURNING AN ITEM BOUGHT IN STORE?
We accept in store returns on eligible items within 14 days of purchase. Please see below for items that are not eligible for return. 
ADDITIONAL RETURN DETAILS: 
Returns must be received in new condition. Madida Clothing has the right to decide whether an item has or has not been used, worn, washed, or damaged. Items with stains such as makeup, deodorant, perfume, or similar stains will be subject to refusal. 

Shoes must be returned in the original box and shipped in an additional protective shipping box. Damage to the shoebox will make item ineligible for return. The shoes will be shipped back and you may be subject to additional shipping costs. Madida Clothing has the right to decide whether the shoes have been worn to the point of obvious wear and tear. (i.e. bottom of the shoe being scuffed etc.) 

Any return credit codes used on future orders will be FINAL SALE.

Gift cards cannot be returned or refunded. 
Sale items and accessories (accessories include belts, purses, jewelry, scarves, hats) are

FINAL SALE

and are NOT eligible for return or exchange.

All discount codes require a

minimum purchase of $20.

All Swimwear is also

FINAL SALE

and are NOT eligible for return or exchange.

All discount codes of 20% off or more

are

FINAL SALE

and NOT eligible for return or exchange. 

All discount codes for 19% off or less

are returnable, but for

STORE CREDIT

only, NO exchanges will be granted.

Discount codes of any amount are not eligible to be used on past orders. 

Pop up shop orders are not eligible for return or exchange.

All MADIDA EXCLUSIVES and CUSTOM JACKETS are unique in their own way! No two pieces are alike and are hand made by the Madida Team! Some crops may be shorter or longer, some may have more distressing than others, and because of this, MADIDA EXCLUSIVES are FINAL SALE and NOT eligible for return. 

All returns can be sent to 1411 N 203rd Street, Elkhorn, NE 68022

The best way to reach us is via email: customerservice@madidaclothing.com, Monday-Friday 10:00am-5:00pm.